My name is Tereza. I am a freelance illustrator, graphic designer, and painter from Slovakia, where I am currently based. I lived and worked in Scotland, Portugal, Southeast Asia, and the United Kingdom.
To tell my stories, I use both: traditional and digital media. I mostly work in Procreate, Photoshop, and Illustrator to create digital pieces, and use watercolor, inks, and acrylics on canvas and paper media.
I grew up surrounded by sunflower fields and lakes. I feel inspired by nature, flora and fauna, spirituality, travels, my inner world, and by ecology/sustainability/equality and growth-oriented communities.
Outside of creative work I enjoy long forest walks, cuddles with my dog and cat, swimming in lakes, hiking, yoga, books, tree climbing, and making spaces cozy.
MASTER DEGREE: 2012 – 2014
Academy of Fine Arts and Design Bratislava, Slovakia
Faculty of Fine Arts
Department/Studio of Free
and Color Printmaking


BACHELOR DEGREE: 2009 – 2012
Tomas Bata University
Zlin, Czech Republic
Faculty of Multimedia
Communications
Department/Studio of Classical
Hand-drawn Animation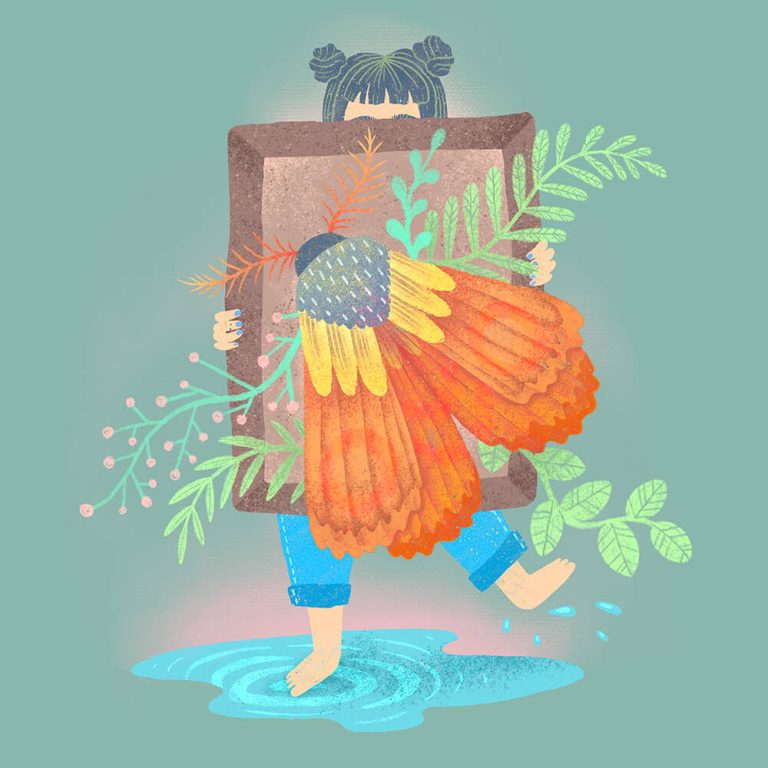 2018
International Fine-art Symposium
Fortress in the Fortification system of Komárno, Slovakia
2017
Inner Labyrinths
The Haberdashery, London, UK
2016
International Fine-art Symposium
Contemporary Art Gallery Limes, Komárno, Slovakia
2015
International Fine-art Symposium
Monostori Erőd, Komárom, Hungary
Fine-art Symposium 'Golden garden'
Vermesova vila, Dunajská Streda, Slovakia